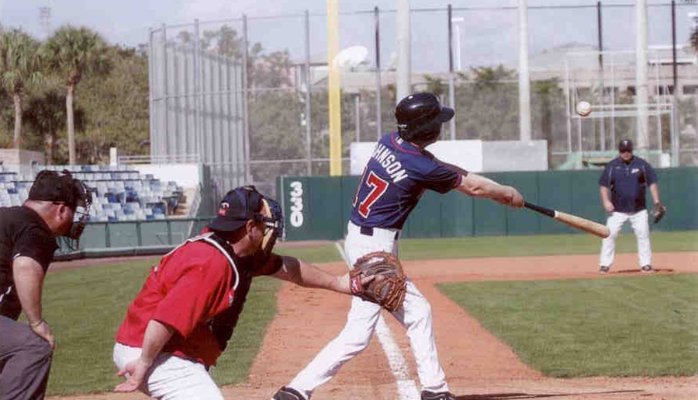 What I Learned Batting Against a Hall-of-Famer
Photo of my foul-ball homer by Al Schuth, Official Photographer of Twins Fantasy Camp (2014)
By Mike Johnson
To outsiders, my body was standing calmly in the batter's box, coiled and ready to crush any baseball foolish enough to cross my strike zone.
Inside my head, I was a 57-year-old rookie with eyes the size of bowling balls, desperately trying to detect baseballs the size of beans.
Minnesota Twins TV announcer and Hall-of-Fame pitcher Bert Blyleven was starring me down from the mound. Over his 22-year career he'd struck out 3,700 batters – all of them with far more skills than this trailer park owner. Out of my element, my bat wasn't even aluminum.
It seemed like a good idea at the time. Twins Fantasy Camp was an opportunity to write a big check and then spend eight winter days in Florida with my childhood heroes, while being treated like a major league ballplayer.
There were 140 of us, regular hacks off the street, aged 30 to 80. We split into ten teams and played a dozen games, each team coached by two retired major league baseball players. My team was led by Dave Goltz and Dick Stigman.
Other teams were coached by players that included Tony Oliva, Frank Viola, Kent Hrbek, Frank Quilici, Rick Aguilera, Greg Gagne, Tim Laudner, Mickey Hatcher, Tom Brunansky, Ron Coomer and Juan Berenguer.
The camp was also attended by Hall of Famer Rod Carew, and Gene Larkin, the man who won the 1991 World Series for the Twins with a pinch-hit single in the 10th inning. ESPN called that 91 Series against Atlanta the best in history.
Bert Blyleven was camp commissioner and everyone reported to him.
Clothes Make the Man
Upon arrival at the spring training facility in Ft. Myers, we were directed to lockers sporting our names. Just like major leaguers, we found two brand new uniforms on hangers -- home and away colors. My away jersey spelled "Johnson" on the back.

Lockers for the Twins players were mixed right in with the rest of us. It's surreal to stand among your childhood heroes. It's even more surreal to stand among them naked.

We received all the perks of superstar ballplayers. Daily laundry service. Breakfast and lunch in the clubhouse. Coolers stocked with free drinks. Free access to the trainers who were fighting a losing battle to keep our old bodies functioning.

Each night we attended a banquet in our fancy hotel and hobnobbed (and hobbled) with our newly met, celebrity best friends.

It was my first time in camp so I was invited to play in the Rookies vs. Twins Stars game. Hence my at-bat against Bert Blyleven.

Dick Bremer is Bert's TV partner and he acted as stadium announcer. I'd watched the pair announce hundreds of Twins games on television.

I was star-struck.
Hey Batter, Batter, Batter!
"Now batting… Number 17… Mike Johnson!" I swallowed hard. Squeezed my Louisville Slugger. Adjusted my batting helmet. Felt the crowd's eyes singe my uniform as I stepped to home plate.

Bert Blyleven glared at me from the mound. I dug into the batter's box. This was the real deal. I was a major leaguer.

There was no screwing around. Bert's first pitch zinged down the middle and I swung with everything I had.

Miraculously, the ball collided with the sweet spot on the barrel of my bat.

CRACK! (Pitchers hate this sound)

The crowd gasped. Bert's head snapped to his right.

I stood in the box, mouth agape, watching that ball climb … climb … climb …

deep … deep … deeper …

Was it possible???

It might be… it could be… this ball was going to clear the seats …

in foul territory.

Good God! I wanted to abandon my at-bat right there and replay that magical moment for the rest of my life!

Bert's enjoyment of that ball's flight, however, was significantly less than mine. He impatiently waved me back into the box.

With extra relish and an exaggerated windup, Bert hurled the fastest-looking, slowest curve ball he'd ever thrown. I swung so early that the ball had not even reached home plate by the time my bat was coming back around the second time. They almost called two strikes on that one pitch.

Bert was in full grin. The crowd loved it. Put the rookie in his place.

Then I hit a grounder to third, Ron Coomer scooped, gave me a few free steps, then purposely threw errantly up the line to Mickey Hatcher at first, who lunged and tagged me out by a whisker. They'd performed this schtick before.

They got the out, I got the memory.
What I learned batting against a Hall of Famer
Swing for the fence. You worked hard to get to life's big moments. This is no time to play small ball. Let 'er rip.

Everyone is accessible. If you truly want to meet someone, you can. You may have to wait until they reach extra innings, but they're accessible.

Don't give yourself an "out." When I heard the advertisement for Fantasy Camp I instantly knew I wanted to go. I signed up immediately before any mental objections had time to root.

Play ball! It had been decades since I'd indulged myself by dropping the compulsion to produce something and just immerse myself in play. I stole eight whole days. It was like stepping out of wet clothes, being served warm dessert and winning the time lottery all at once. It turns out I was worth it.

Everyone's on the same team. After eight days of playing, showering, joking and eating together, my childhood heroes became regular guys. Some funny, some abrasive, some relaxed, some intense. Just like the mix you find in the rest of humanity.

Stay in the playing field. Bert welcomed us to camp by telling us not to waste time trying to impress. Nobody attending Fantasy Camp was going to be selected to play with the Big Club. Free of high expectations, we happily operated within those boundaries.

Buy the best seats. Writing that big check was an initial gut check. But it paid off with forever memories. The investment keeps paying every time I recall those experiences.

You can play with the big boys. Granted, Bert is over 60 and served me up a cookie. But I hit it. Excelling at anything just takes practice and focus. I'll never be a baseball "big boy" but I can still play and enjoy the game. This is true of anything in life. You can still enjoy the journey without being the best.
Bert Goes All Socrates
It turns out pitching isn't all that different from philosophy. Just before our first game, Bert put on his serious face and gathered our team for a pep talk. His timeless advice works for any aspect of life.

"OK guys, do your best. Don't get hurt. Don't push yourselves too hard. Just relax and enjoy the game. Oh… and one last thing ...

Don't F--- it up!"

###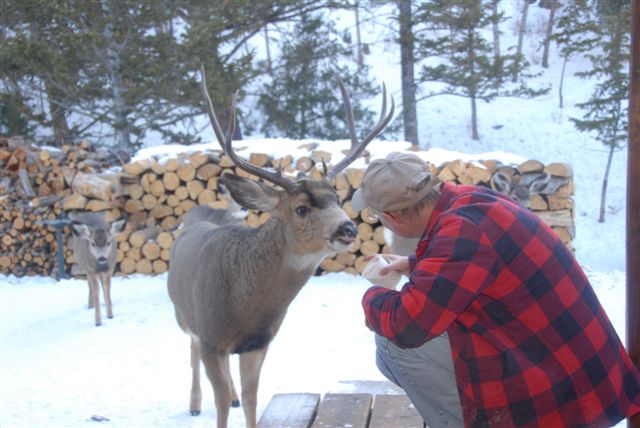 Mike Johnson made the journey from jobs to freelance writer to entrepreneur to passive income and early retirement. Today he teaches people how to skip right to passive income and early retirement at WorldsBestWriter.com .
Once I learned how to BUY passive income, I stopped chasing the bucks and the bucks started chasing me!