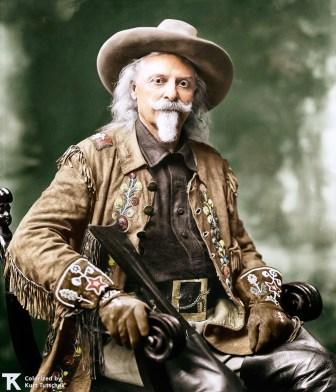 Chasing Buffalo Bill
Photo: Buffalo Bill Cody
By Mike Johnson
A Florida business bankruptcy allowed us to start over in 1996. The day after bankruptcy cleared, I secured a reoccurring, freelance writing gig from a business newsletter publisher. The pay was excellent and the work could be done by phone and email at home. We could now live anywhere in the world.
Since backpacking as a teen, I'd wanted to live in the mountains of Wyoming. This was the chance. Deeper research and an exploration trip with Margie narrowed it down to Cody.
We took the leap, made the move and started fresh in a town where everyone was a stranger. It was a pivotal, invigorating decision.
One hundred years earlier, William Frederick "Buffalo Bill" Cody started the town. As a citizen, you learned the basics about the man by osmosis. He'd started everything – the dam that provided water, the Irma Hotel, the newspaper, the railroad into Cody and the east gate into Yellowstone National Park. Even today, you have to travel through Cody to get to that Yellowstone gate.
Then he promoted his new town throughout the world while performing his traveling wild west show. The man lived from 1846 to 1917. He'd been a Pony Express rider, wagon master, prospector, buffalo hunter, military scout (earned the Congressional Medal of Honor), an actor, hotelier, and showman. During his prime years from 1890-1910, Buffalo Bill Cody was the most recognized man in the world.
In 2001, through grace and serendipity, we came up with the idea to launch a city tour that shared all that history while spotlighting Cody's best attractions. To make it more appealing, we used a red and green trolley.
How Deep is Your Mine?
So of course we had to become quasi-experts on the man. We read multiple books. Made many visits to Cody's world-renowned Buffalo Bill Center of the West. We even donned white gloves to read original letters written by Buffalo Bill himself.
During off-seasons we explored key places in Buffalo Bill's life. His birthplace and childhood homes in LeClaire, Iowa. A Wyoming outpost on his record 322-mile Pony Express ride. His Scouts Rest Ranch in North Platte, Nebraska. His first hotel in Sheridan, Wyoming. His sister's home where he died in Denver. The mortuary that prepared and stored his body. His gravesite in Golden, Colorado. His preferred gravesite on top of Cedar Mountain overlooking Cody.
Which led to our most popular trolley tour story, "The Buffalo Bill Burial Mystery." Researching that fascinating controversy was right up my alley.
125 years later, via our stories and tour route, Buffalo Bill is still promoting his town. As the trolley drives tourists throughout Cody, Margie likes to imagine him sitting on the roof waving.
He'd love the showmanship. Pleasing the town founder is just one more reason why we believe that business became so beneficial to all it touched.
###
Back to Mike's Warm, Wealthy Wisdoms
Back to Mike's Website, WorldsBestWriter.com