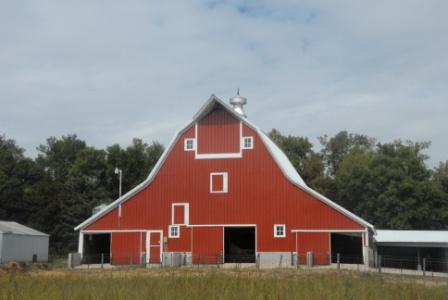 Were You Born in a Barn?
By Mike Johnson

I wish.

The second we saw that barn, Margie knew I was going to buy the farm. The barn itself was worth more than the $79,900 price of the property.
But it came with six acres, a large farmhouse and 10 other out-buildings. One acre of the property was even zoned to divide into five lots. I couldn't believe the value here!

But this time, I wasn't buying value. I was buying the beauty, the Minnesota location and the farm experience. The "experience" required a big rehab of the house and grounds.

This had been a 200 acre pig farm in the past. The same family had owned the place for over 80 years. Their mom had died and dad was in a nursing home. The son carved off most of the acreage to grow corn and soybeans. The other siblings were selling off the buildings and six acre parcel. Despite the low price, tired and run down, the property had been on the market for years.

It took an outsider to see the value.

What an adventure!

We couldn't raise farm animals because we spent half the year in Wyoming. But we could garden, so set up and worked a 45 X 50 foot fenced plot.

We gutted the basement, rewired and replumbed the house, sanded and stained the floors, replaced appliances, rehabbed the kitchen and bath and painted every room. We trimmed the overgrown trees and cut acres of brush. We mucked out the barn and cleaned and painted the outbuildings.

When we bought the property, the son warned us the farm had always been "green." Which meant tractor color. So we stuck with the script. A highlite of my week was cutting the huge lawn riding my newly-purchased John Deere mower.

After 18 months, I realized I wasn't comfortable owning two homes 800 miles apart. Too much worry about the one that was empty. So we finished the rehab and sold the farm to a nice family.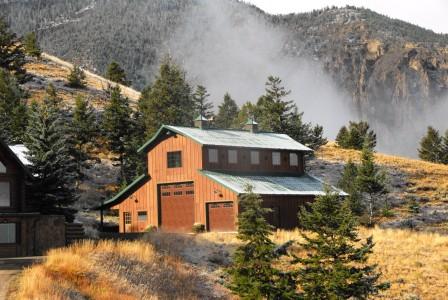 Then went back to Wyoming and added a barn and out-buildings to our mountain home here.
The farm adventure was amazing. Every day was fresh and different. Every town within 100 miles was a new exploration. We learned so much about rehabbing and agriculture. Met stimulating people. Enjoyed rural, small town life. And learned what we wanted to add to our Wyoming property.
And we saved the farm. Which helped the neighborhood, helped the buyers and helped so many local vendors and contractors.
Now it's all tucked away neatly in our memory. No responsibility, no expenses, no hard labor. Just positive memories.
That's the magic of adventure. Eventually, it physically ends. But mentally, the best parts live on forever.
###
More:
The sales flyer we created for the farm: The Red Barn Farm
A farm adventure: Laddie is Missing!
###
Back to Mike's Warm, Wealthy Wisdoms
Back to Mike's Website, WorldsBestWriter.com