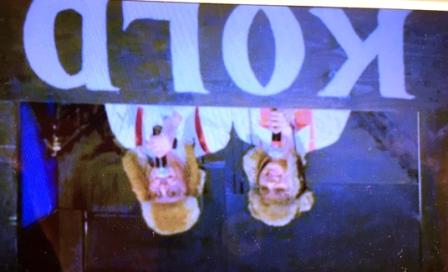 Print Your Nation's Money!
Photo by Dewey Vanderhoff for Cody Rotary Club
By Mike Johnson
Our local Rotary Club used to present an annual parody show as a charity fundraiser. For a number of years, I was a show writer.
My favorite act was KOLD news, a parody of the local KODI radio station news. Cody is so small we have no TV station, but I'd sit in a big television prop box with another co-anchor (Cynthia Miller pictured here), where we'd deliver our parody news. Being a small town, there was always some controversy or event to make fun of. The town loved it.
I also created parody commercials that could be pre-recorded as an mp3 file for play during our fun newscast.
One of my favorites was a software program called, "Print Your Nation's Money."
It's just as funny (and true) today as it was ten years ago. You can access it here:
Voice talent in order of appearance:
Chris Turner
Wendy Corr
Lisa Peterman
Mike Johnson
I retired from the club years ago but recall my time there fondly. Volunteer activity fits my advice to take a "job" to learn, rather than earn.
Although not paid, volunteer work is a great type of "job" because you call the shots. It provides learning, experience, fun and connections that can deeply impact your life.
###
More:
In Radio, It's Not the Size, It's the Frequency
###
Back to Mike's Warm, Wealthy Wisdoms
Back to Mike's Website, WorldsBestWriter.com