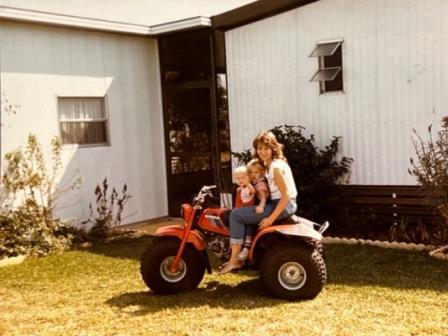 Out Your Back Door
Photo by Mike Johnson
By Mike Johnson
Our first purchased house (1982) was a doublewide mobile home. We ordered its specific features and had it built brand new for $24,000. It was set on a rented lot along a pond in a 600-unit trailer park.
Margie designed and planted the landscaping. Later, we added a carport, screened room and shed to hold two ATVs.
All terrain vehicles in those days were Honda 3-wheelers. I relished firing them up in our shed, driving a block to exit the rear of the park, then enter the rural, miles-long trail under the power lines.
Out my back door, I could explore 10 miles of private, rural wilderness.
We could do the same at our next house, located on a rural island.
Today, we live on the border of the world's largest national forest, which connects to millions of acres of public lands. Out my back door, I can hike to Yellowstone, the Tetons or four different states, without touching private property or encountering people. I could also be eaten by grizzly bears. The best adventures are spiced with a sprinkle of risk. The ATVs are long gone but my mind and legs remain.
Even in city houses, I was always able to launch adventures out my back door.
As a child it was biking across the street to the swamp or a mile to the convenience store.
As a teen it was driving the Vega to McDonald's. Or later, walking out my back door to work, which was located right next to my apartment.
We always find the value out our back door. Because every location is near some perk.
No matter what door you exit, there's always a benefit. An adventure. Fun.
Any amazing thing you can ever imagine is just sitting there waiting.
Out your back door.
###
More:
###
Back to Mike's Warm, Wealthy Wisdoms
Back to Mike's Website, WorldsBestWriter.com