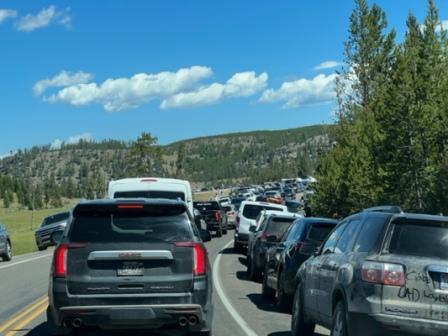 Saturday Crowds
Photo: Miles-long traffic jam at Yellowstone, near Grand Prismatic, July 2023 (Margie Johnson)
By Mike Johnson
Visiting Yellowstone in July is like shopping at Target on Saturday.
High season for those lacking reason.
If youíre in lockstep with the masses, your view in line is dominated by asses.
I remember my dad swearing in the Target parking lot, struggling to find a spot on a Saturday. A working man, it was his only time to shop. Unfortunately, this was the same for most other families. Dad got so angry at crowds that he vowed to move to Australia.
As a kid with a bike and summers off, even I knew that Target was slow on weekday mornings. I didnít like crowds either. No swearing at full bike racks on a Saturday for me.
Over time, I arranged all areas of my life to avoid the masses.
Remote living. No work schedule. No daily commute. No visiting Target on a Saturday.
Free people are not fans of Saturday. The rabble are out in force, clogging everything.
Give us a Monday instead. The herd is back in their corrals. The rest of the ranch is ours.
Decades ago, I learned that the best use of Saturdays was figuring out how to escape the herd by becoming free EVERY DAY.
Thatís the best target.
###
More:
How to Get a Little Saturday Every Day
###
Back to Mike's Warm, Wealthy Wisdoms
Back to Mike's Website, WorldsBestWriter.com